Overview
How it works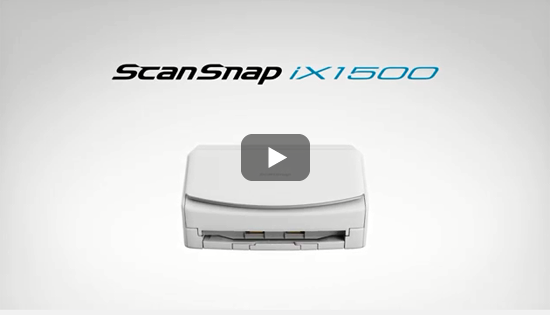 Intuitive scanning at your fingertips
The ScanSnap iX1500 is the flagship model of the ScanSnap Series, capable of digitizing large volumes of papers quickly. It simplifies the scanning process for a variety of documents, making it easy to digitalize your life. You can be more efficient and productive, focusing on the things that matter the most.
What it does is complex, how you use it is simple. Its wireless connectivity, an intuitive touch screen and advanced software, "ScanSnap Home", enable you to do anything from scanning papers, converting them into fully editable files, to utilizing data in your commonly used applications. With its various automation functions, it intelligently adapts to your preferences and continues to evolve around your needs, enabling you to work in a smarter way.
Touch screen for various tasks
Perfect fit for both personal and sharing use
Refined design
Fast 30 ppm color scanning
50 sheets Automatic Document Feeder (ADF)
Easily scan receipts and business cards with the included receipt guide
Manual Scan mode allows easy scanning thicker and overlapping documents
Dust Detection and Streak Reduction for clean images
Scan wirelessly to PC, Mac, iOS or Android mobile devices
Best experiences with ScanSnap Home
Features
An optimized user experience that keeps evolving
The ScanSnap iX1500 builds upon ScanSnap's "One Button Simplicity", taking efficiency to a new level.
Even more intuitive usage achieved by simple operation
You can complete processes from scanning to data utilization with just "one touch" of the 4.3 inch touch screen. Basic tasks such as setup and Wi-Fi configuration, checking scanning statuses and choosing save-to destinations are easy even for first-time users with the touch screen's easily understandable icon simplicity. Up to 30 pre-configured profiles can be made, optimizing scan workflow.
Profile icon examples
Share documents
Attach with email
Manage business trip expenses
Create photo album
Save your favorite settings to your profile and select with a touch
You can now save your commonly-used settings to preconfigured buttons right on the touchscreen. Each ScanSnap profile has a different color, so you can choose your personal buttons at a glance

Usability more refined for every user
Designed for ultimate ease of use, the iX1500 transforms all the paper surrounding you with valuable information and adds more productivity to your lifestyle.
Refined and aesthetic form
The scanner's adaptable and aesthetic design enables it to blend into any space, so it can stay where it is used the most, your office, living room or study room.
Create files quickly
Simply open the document chute and ScanSnap is ready to go. Scan single and double sided documents with ease at 30 sheets per minute*1. When choosing "Fast" startup*2, you can start scanning even faster.
*1 Image quality: Best mode (color/grayscale at 300 dpi; B&W at 600 dpi).
*2 Power consumption increases with "Fast" startup.
Scan larger and heavier documents
Scan documents larger than the typical A4 size that need to be folded in half, envelopes and much more with Manual Scan Mode. Documents that are typically difficult to scan in Normal Scan Mode can now be captured.
Effortlessly scan small documents with the Receipt Guide. No need to be concerned about fixing receipts and business cards that tend to curl or skew. Designed to be a comfortable fit even when the cover is closed, it dramatically reduces the handling of documents before hitting the scan button.

Versatile paper handling
With professional grade feeding technology and an ultrasonic sensor, the iX1500 handles multi-page documents with ease, and can additionally detect and alert you of multi-feeding errors.
Clean images all the time
Receive notifications on the touch screen whenever Dust Detection spots dust that may result in streaked images. Maintenance notification beforehand enables you to reduce the hassle of time-consuming rescans.
Even if streaks happen to appear on scanned images, Streak Reduction removes them to produce clean images.

Scan anywhere you want whenever you want
Connect the iX1500 to your computer or smart device (both iOS and Android)*1 in your office and at home, using existing Wi-Fi environments with Access Point Connect Mode*2. Connecting is also possible in environments without Wi-Fi using Direct Connect Mode, as the scanner itself functions as an access point. Supporting 5 GHz Wi-Fi*3, it ensures smooth data transmission.

*1 When using smart devices, ScanSnap Connect Application is required.
*2 Access Point Connect Mode requires a Wi-Fi access point or router.
*3 Availability of 5 GHz Wi-Fi may vary depending on region. 5 GHz Wi-Fi is not available with Direct Connect Mode.
Best experience with ScanSnap Home
ScanSnap Home combines all your favorite functions into one and is the ultimate platform to utilize scanned data in various ways. Easily manage, edit and utilize data from documents, business cards, receipts and photos with the software. You can scan large volumes of various types of documents from color photos to double-sided landscape documents with a host of intelligent automatic image processing functions.