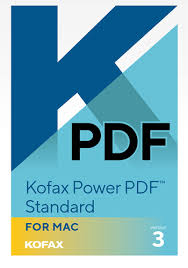 Nuance PowerPDF - Standard for Mac, Single User License, Boxed, Physical Delivery

Kofax Power PDF Standard for Mac makes working with PDFs a pleasure, thanks to powerful yet intuitive tools for creating, converting, editing and sharing PDF files.
Whether you're an individual or a large enterprise, cutting costs and improving efficiency are imperative. Yet workflow challenges are often met with free software and tools that seemingly help you cut costs, but in actuality don't meet your unique needs. That's why individuals and enterprises are turning to software that integrates with their workflows, improves productivity and supports their goals.
Kofax Power PDF solutions are powerful and intuitive tools designed for individual users or for enterprise deployment to create, convert, edit and share PDF files. With Kofax Power PDF solutions, you'll work more efficiently, securely and seamlessly across any device and platform.
Create and compile PDFs from almost any document or file type
Deliver the most accurate versions of your documents
Work across devices and platforms and easily share documents in the cloud
Take security precautions with advanced features such as redaction
Deploy across the enterprise, simplifying the licensing process
PDF Productivity for Peace of Mind
Kofax Power PDF
solutions make it easy for individuals and businesses to control every aspect of their their PDF workflow—from fast and accurate conversion and editing to enhanced security, collaboration and enterprise deployment.
Address Your PDF Needs so you can Work Like Tomorrow
The unique features of
Kofax Power PDF
solutions empower you or your organization to work today like the workforce of tomorrow by enhancing your PDF workflow with
several options of Power PDF
.
Attention! We would need up to 72 business hour to process your PowerPDF order.
---
Maintenance & Options:
Installation, training and professional services