Overview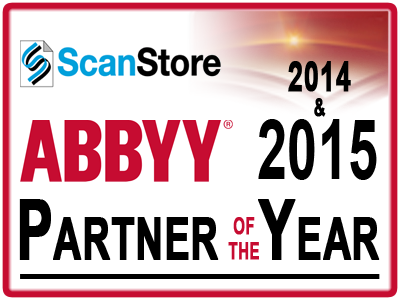 ABBYY FineReader Server is powerful server-based OCR software for automated document capture and PDF conversion. Designed for high-volume document conversion, it automatically converts large collections of documents into searchable, sharable digital libraries. Our server-based OCR and PDF conversion offering converts scanned and electronic documents into PDF, PDF/A, Microsoft Word, or other formats for search, long-term retention, collaboration, or additional processing – quickly, accurately, and automatically.
'Perpetual Pages Per Year' Version
Page limit is automatically renewed yearly.
Automated Document Conversion Solution –
for Digital Archiving, Electronic Search and Enterprise-Wide Access
ABBYY FineReader Server automatically acquires images from scanners, file, fax and e-mail servers, and Microsoft SharePoint libraries, performs server-side optical character recognition (OCR) and allows adding metadata. The results are delivered directly to network folders, SharePoint libraries or other storage and management systems in any of a wide range of formats. These include MRC-compressed searchable PDF or PDF/A files, XML data, editable documents such as Microsoft Word and Excel® files or plain text files.
ABBYY FineReader Server receives document images from storage folders, multifunction printers, scanners, or e-mails and uses optical character recognition (OCR) technology to automatically convert them into compressed, searchable digital formats.
If needed, the user and the system can add metadata to the document and the user can manually correct text information. The service can run around the clock or process documents in batches on a scheduled basis to optimize use of hardware resources. The resulting digitized files can be saved to any number of storage areas and/or delivered to other applications.
Gaining efficiency with ABBYY FineReader Server
Scanning Service Providers
Convert high volumes of scanned documents within short timeframes. Run simultaneous document conversion processes for different clients on one server. Deliver searchable documents in multiple output formats and more than 190 languages using state-of-the-art ABBYY recognition technologies.
Banks and Insurers
Empower business processes such as mortgage applications or insurance claim processing with an option of full-text search. Archive all documents relevant to a specific case or client in PDF or PDF/A format for long-term preservation – and find them within seconds.
Law Firms and Legal Departments
Archive all case-related documents, contracts and faxes in searchable PDF. Use metadata and smart file naming to categorize and tag the files. Quickly find relevant documents and citations.
…and more:
Digitize books and university archives to enable remote public access; perform OCR on construction plans and drawings; speed up response times by digitizing incoming correspondence.
Key Features
ABBYY FineReader Server is a perfect fit for document conversion projects of medium to large scale thanks to its powerful features, including:
State of the Art OCR Technology
Powered by ABBYY's award-winning OCR technology, ABBYY FineReader Server delivers fast and highly accurate results in 199 languages – more languages than any other OCR software. It ensures that text content is extracted precisely, even from low-quality faxes and scans, and converts it into a variety of output formats suitable for archiving, sharing and editing.
Unmatched Volume Scalability
ABBYY FineReader Server is a highly scalable solution that can successfully complete projects where millions of documents need to be converted in a short timeframe. Processing power can be easily expanded by using multiple servers and CPUs. Even common office workstations can turn into processing units during non-business hours, allowing organizations to save on hardware and leverage existing resources in the most efficient way.
Cost-Saving Simplicity
Designed for intensive document processing, ABBYY FineReader Server remains easy to deploy and administer, allowing organizations to minimize operational costs. Software configuration does not require training and can be quickly done by a system administrator. The administrator interface is simple and intuitive. OCR and document conversion processes run automatically on the server and require no end-user involvement at all.
Unlimited Client Access
ABBYY FineReader Server does not limit the number of users or client applications that can access the system. The OCR and document conversion service runs on a Windows server or a web server and can be used by multiple clients from within or outside your organization. Unattended document processing allows you to use ABBYY FineReader Server as a centralized system that serves various business processes and groups of users with different conversion needs.
Functionality
ABBYY FineReader Server provides a set of key functions for making text-based information locked in static images easily discoverable and turning it into a valuable asset. They include:
Support of Various Conversion Scenarios
ABBYY FineReader Server can process image documents acquired directly from scanners and MFPs, or imported from network or FTP folders, Microsoft® SharePoint® libraries, or mailboxes. It also offers an API for submitting tasks programmatically from client applications. Converted documents can be delivered to destination folders, SharePoint libraries or email addresses as well as returned to the client via API or routed to the target business system by a scripted rule. For "read-only" archives of image documents, a special mode is available that allows replicating the entire structure of the archive in searchable format without altering the original images.
Integration with Microsoft SharePoint
Images can be processed via OCR and converted into searchable files in a consistent way before they are uploaded to the Microsoft SharePoint site. Image documents that are already stored in SharePoint libraries can be converted in searchable PDF right within the library. Scanned PDF files can be enhanced with a text layer and stored under a new version number tracking the document's history. All newly arriving images will be detected and converted automatically. For TIFF archives within SharePoint, an Ifilter is available for background content extraction.
OCR and Barcode Recognition
At the core of ABBYY FineReader Server is a powerful OCR engine that can process documents in over 190 languages. It is supplemented by a barcode recognition engine that reads 1D and 2D barcodes such as PDF417, QR Code and others. Barcodes can be used to perform document separation or as a source of metadata for documents.
Assigning Document Types and Metadata
Document types can be detected automatically by scripted rules or assigned manually by an operator. Index values (metadata) can be captured from the content of the document via a convenient point-and-click tool and assigned to each document according to its type.
Multiple Output Formats
Documents can be simultaneously converted into multiple formats such as PDF, PDF/A, XML, plain text, Microsoft Office formats, TIFF and JPEG.
Smart PDF Processing
Scanned PDF files can be turned into searchable PDF and PDF/A documents by automatic injection of a text layer. PDF files that already contain searchable text (e.g., digitally born PDFs) can be moved to the destination as they are, or turned into PDF/A files with preserved bookmarks, attachments, metadata and the original image quality.
MRC PDF Compression
ABBYY FineReader Server produces PDF files of small size and high visual quality using sophisticated MRC compression technology. The optimal size/quality ratio of MRC-compressed PDFs is achieved by applying different compression methods to each individual layer of the created PDF file.
Load Balancing
Built-in load balancing mechanisms ensure that the server utilizes all available hardware resources in the most efficient way. Queued tasks are dynamically distributed among processing stations and their CPUs for parallel processing. Additional load balancing tools are available to the administrator in the form of scheduling and priorities.
Customization and Integration
ABBYY FineReader Sever can be used as an independent standalone service, as well as an integral part of a larger business system. It offers diverse tools for integration including COM-based API, Web Service API, scripting and directive XML files (XML-Tickets).
Learn more about how ABBYY FineReader Server processes documents >
What's New
With a strong set of new features, ABBYY FineReader Server offers improved stability, a better user experience and an even higher quality of results.
New Document Processing Scenarios
Processing Read-Only Archives and Document Libraries – The administrator can set an existing archive folder or SharePoint library as a source of input documents, and the original collection of documents stored there will not be moved, deleted or altered. If the same folder or SharePoint library is defined as the source of input documents and the location for converted documents, files produced by ABBYY FineReader Server (for example, searchable PDF files) can replace the originals, be stored with a new file name or as a new version of the document, according to the preferred settings.
Processing Files by Mask – The administrator can now select types of files (for example only TIFF and JPEG files) or define a mask for names of files that need to be converted. Files that do not conform to the mask can be moved to a different folder, stay in place or be copied directly to the output location. This allows creating searchable archives that completely "mirror" the structure and content of the original archive. The whole variety of documents from the original archive (including images, Word, PowerPoint and Excel files) will be recreated in the output archive; however the static document images will be replaced with their copies in PDF or another searchable format.
Enhanced Integration with Microsoft SharePoint
Converting Images Within SharePoint – ABBYY FineReader Server's integration with SharePoint has been extended beyond simple "capture to SharePoint" capabilities. Now it can process PDF files and images in existing SharePoint libraries and convert them into searchable PDFs, enabling SharePoint to include these documents in the search index.
Enhanced Set of PDF Features
Smart PDF Processing – To avoid unnecessary processing of already-searchable PDF files (i.e., PDF files containing a text layer), ABBYY FineReader Server can skip such files or intelligently decide which of them need to be reprocessed via OCR. In the latter case, ABBYY FineReader Server detects the text layer in each PDF file, checks its quality and decides whether it should export the original file unaltered or replace the text in it with the newly extracted text. This intelligent algorithm allows PDF files that are already searchable to stay unaltered and shortens the overall conversion time.
Support of Latest PDF/A Standards – In addition to PDF/A-1a and PDF/A-1b standards for long-term archiving of digital documents, ABBYY FineReader Server supports creation of PDF/A-2a, PDF/A-2b and PDF/A-2u files.
Text Injection in Image PDF Files – The new version of ABBYY FineReader Server supports "injection" of a text layer in an image PDF file while preserving the original image quality as well as all properties of the source PDF, such as bookmarks, annotations, metadata and attachments.
Architecture and Administration Enhancements
Enhanced Robustness – With the addition of an SQLite database and enhanced fault tolerance mechanisms, ABBYY FineReader Server has become even more robust and able to consistently handle high workloads and multiple clients within the same server installation. This makes the software perfectly suitable for extensive document processing projects running in an unattended mode, requiring minimum human involvement.
Enhanced Logging – To make server administration even easier, the log of completed tasks has been enhanced with additional information about each individual processed document. The log retention policy can now be defined based on a time period or file size, providing the system administrator with more flexibility.
Easy User Management via Active Directory – Permissions for tasks such as administration, verification and indexing can now be assigned via Active Directory user groups. Once a user is added to (or removed from) an Active Directory group registered in ABBYY FineReader Server, his or her permissions are automatically updated.
Support for SSL – When sending documents to FineReader Server by e-mail, it is now possible to use SSL protocol for stronger security and data protection.
Enhancements to Operator Stations
Import of Value Lists in the Indexing Station – The list of possible values for index fields can be imported from an external file.
Possibility to Select Documents for Verification or Indexing – The operator can manually pick a document from the verification or indexing queue in order to process it ahead of others.
Saving Intermediate Verification Results – In the process of verifying documents with large number of pages (for example when converting books), the intermediate verification results can be saved before the verification job is fully completed.
Other OCR Technology Enhancements
Improved Recognition of Arabic – According to ABBYY internal tests, the new version of ABBYY FineReader enables up to 20 percent faster recognition of Arabic documents and up to 10 percent better accuracy on office documents and books in Arabic language.
Recognition of Text Printed Sideways – Text printed sideways can now be extracted from documents (for example, construction plans) along with the normal horizontal text.
1 Year Maintenance Required