The Fixed Form Only version of ABBYY FlexiCapture is no longer available. This record has been retained for maintenance and order history. Click Here for the current listing.
Overview
ABBYY FlexiCapture is a powerful data capture and document processing solution from a world-leading technology vendor. It is designed to transform streams of documents of any structure and complexity into business-ready data. And its award-winning recognition technologies, automatic document classification, plus a highly scalable and customizable architecture, mean that it can help companies and organizations of any size to streamline their business processes, increase efficiency and reduce costs.

What is Forms Processing?
Forms processing is a process whereby information entered into data fields is converted into electronic form. Automated form processing software interprets machine-print (OCR), isolated handprint (ICR), mark sense (OMR) and barcodes from paper forms.


ABBYY FlexiCapture is highly accurate and scalable document imaging and data extraction software that automatically transforms documents of any structure, language or content into usable and accessible business-ready data.
Intelligent self-learning classification and state-of-the-art recognition technologies enable FlexiCapture to replace error-prone manual processes with automatic document classification and processing.
Flexible and customizable, FlexiCapture can handle virtually all document processing scenarios and can be tailored to any company's workflows and regulations.
Document Input
Scanning Station
FlexiCapture Scanning Station enables easy scanning with any TWAIN-, ISIS- and WIA-enabled device. Available in thick and thin client versions.

Image Improvement
Pre-loaded or scanned images can be improved before processing using features that include rotation, deskewing, hide sensitive data and more.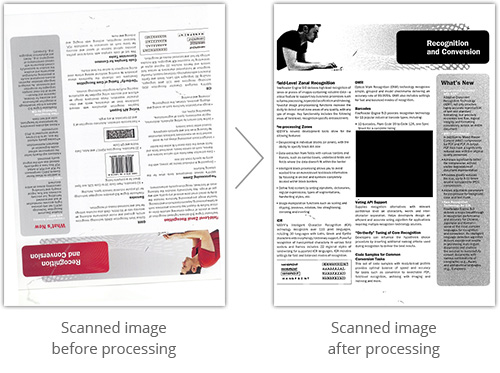 Recognition
The recognition stage includes assembly of documents, classification, text and data extraction and automatic validation. These stages are executed simultaneously in unattended mode.

Automatic Assembly of Multi-page Documents From a Mix of Pages
This may rely on separators (blank pages inserted between two documents), page counters or advanced ABBYY classification algorithms – that enable automatic detection of pages belonging to different documents.

Automated Image-base Classification
Content-based classification
Rule-based classification
Any combination of above

Highly Accurate OCR/ICR/OMR and Barcode Recognition
Optical character recognition of printed text in up to 190 languages
Intelligent character recognition for hand-printed text in over 110 languages
Barcode recognition for a variety of 1D and 2D barcodes
Optical mark recognition for a wide range of checkmarks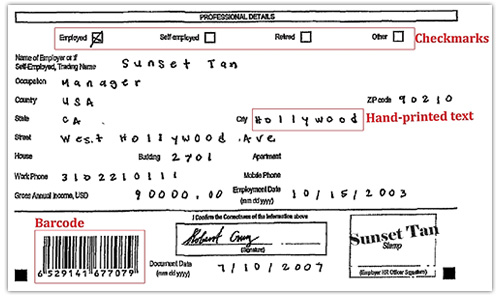 Automatic Validation
Comparison against databases
Conformity with built-in validation rules
Compliance with format
Data normalization
Application of other user-defined checks
Verification
Group Verification
Group verification for checkmarks and digits is applied across documents in form recognition projects. Identical figures (signs) from an entire document batch are displayed together.

Verification in Document Window
Recognition results of all required data fields are viewed simultaneously and compared with the original image. Information that is not successfully recognized, such as handwritten text or notes, can be typed manually into the fields.
Field Verification
Field verification checks data fields one by one.


Verification is available in thick and thin client versions. Verification is an optional stage and can be skipped.
Export
For manual verification of recognition results, FlexiCapture offers several verification modes that enable speedy verification and greater convenience.
FlexiCapture provides export to:
Files
SharePoint 2003/2007/2010/2013
ODBC-compatible databases
Any ERP system and invoice approval workflow
Any external application through use of custom script modules
Ideal for Large Companies and International Business
International companies can now enjoy a single solution for processing documents in multiple languages - including Chinese, Japanese, Korean, Vietnamese and 183 more!
Fast ROI, Low TCO
Elimination of labor-intensive operations guarantees fast ROI, while web-based clients and easy-to-configure data extraction ensure low TCO.
Web-based Verification
Reduce costs and utilize your workforce more efficiently with Web-based data verification. Operators simply log in to perform manual verification tasks.
Front Office Document Capture
Capture documents at point of entry to reduce processing time, delivery costs and the space needed for storing paper documents. With the help of Web Capture Station, scanning and verification can be performed in a single web-based interface. This enables front office document capture without the need for a thick client application – and speeds business processes by capturing documents at point of origin then quickly delivering them to the back-end.
Optimized Performance and Fault Tolerance
Advanced server-based architecture enables effective processing of large volumes of documents. A powerful processing server handles all resource-intensive operations – performing automated task distribution among the processing stations and load balancing. Microsoft Cluster support ensures consistent system operation and prevents data loss in case of system failure.
Flexible Workflow
A flexible workflow can easily be adjusted to your specific business processes. FlexiCapture offers a powerful set of tools for modifying the basic document processing workflow with custom processing stages, scripts, and external modules. The workflow also enables document processing in a fully unattended mode.
Controllable Training Technology
With controllable training technology, simple "point-and-click" input can be used to create layout descriptions and to define document types for classification. Layout descriptions can automatically be generated simply by indicating elements and data fields for extraction on several images. Additionally, document descriptions can be fine-tuned in order to achieve even higher accuracy in locating document fields. As opposed to "black-box" self-learning systems, ABBYY FlexiCapture gives full control over the training results.
Double Verification
Business-critical data fields can be verified by two operators independently to rule out program or human error. Data will be accepted by the system as verified only after proofreading results coincide from both operators.
Customizable Verification Station
As a part of the Standard Verification Station, FlexiCapture offers scripting tools for customization of the user interface. This feature is ideal for projects where additional tools are required for specific operators, or where special regulations must be adhered to and monitored. Whether the requirement is to modify menus and toolbars, add controls for document-specific functions, or change the station's behavior to fit a particular scenario, all the changes can be scripted within FlexiCapture.
Robust Reporting
Custom reports for system and operator performance monitoring are available in FlexiCapture. Crystal Reports Editor can be used by administrators to generate custom reports from FlexiCapture's database.
Easy Forms Design
Designing blank fixed forms has never been easier. Data-merging profiles can merge barcodes and images to create new ways to automate high-volume jobs. Easy-to-use default settings, drag-and-drop multipage support, and more, also enable faster form design.
1 Year Maintenance Required