Abbyy FlexiCapture 12 Cloud (FCC) General information:
• FlexiCapture Cloud delivers ABBYY's advanced data capture platform capabilities via REST API and web interfaces.
• ABBYY FlexiCapture Cloud service is hosted on Microsoft Azure cloud environment.
• FlexiCapture Cloud is available as a Pages limited Subscription license only. It allows the usage of unlimited CPU cores and multiple processing stations for high-performance document processing.
• The multi-tenant architecture of FlexiCapture Cloud allows several different groups of users to work within the system while having no access to each other's data and configuration parameters. Public cloud-based deployment reduces time to market and opens up new opportunities for small and medium sized organizations who no longer need to invest in infrastructure or on-going administrative costs to access powerful capabilities.
Abbyy FlexiCapture 12 Cloud (FCC) Licenses installation includes:
FlexiCapture Cloud license includes amount of 2 web stations (scanning, verification, web capture). All Stations are concurrent and deployed as web stations (browser-based).
Prices are annual fee for 1-year Subscription, Pages per Year. Subscription license is automatically prolongued after one year. Standard Maintenance and Support license is included in the license price and grants access to upgrades/patches.
ABBYY FlexiCapture Cloud API
Powerful document capture within your application
ABBYY FlexiCapture Cloud delivers ABBYY's advanced data capture platform capabilities via REST API and web interfaces. ABBYY FlexiCapture Cloud customers can rapidly configure and deliver their Content IQ solution, taking advantage of our cloud services to automate and accelerate their document-driven processes. The advanced machine learning and AI in the platform improve classification and data extraction results, enabling core processes to support better, smarter, faster decisions.
FlexiCapture Cloud enables organizations to accelerate digital transformation by complementing their automation systems with new and advanced cognitive capabilities that liberate the intelligence locked in their documents.

Easy steps to get you started
FlexiCapture Overview
ABBYY FlexiCapture is a powerful data capture and document processing solution from a world-leading technology vendor. It is designed to transform streams of documents of any structure and complexity into business-ready data. And its award-winning recognition technologies, automatic document classification, plus a highly scalable and customizable architecture, mean that it can help companies and organizations of any size to streamline their business processes, increase efficiency and reduce costs.

What is Forms Processing?
Forms processing is a process whereby information entered into data fields is converted into electronic form. Automated form processing software interprets machine-print (OCR), isolated handprint (ICR), mark sense (OMR) and barcodes from paper forms.

ABBYY FlexiCapture is highly accurate and scalable document imaging and data extraction software that automatically transforms documents of any structure, language or content into usable and accessible business-ready data.
Intelligent self-learning classification and state-of-the-art recognition technologies enable FlexiCapture to replace error-prone manual processes with automatic document classification and processing.
Flexible and customizable, FlexiCapture can handle virtually all document processing scenarios and can be tailored to any company's workflows and regulations.
Document Input
Scanning Station
FlexiCapture Scanning Station enables easy scanning with any TWAIN-, ISIS- and WIA-enabled device. Available in thick and thin client versions.

Image Improvement
ABBYY Image Enhancement automatically improves images captured by mobile devices to optimize processing. It is also indispensable for processing documents with complex backgrounds like transcripts, identification documents and transportation forms, while automatically optimizing the image for processing or providing immediate feedback if image quality is poor. Features such as auto crop, background whitening, image quality assessment and capability to create custom enhancement profiles for different image sources, help process all documents regardless of their quality or source.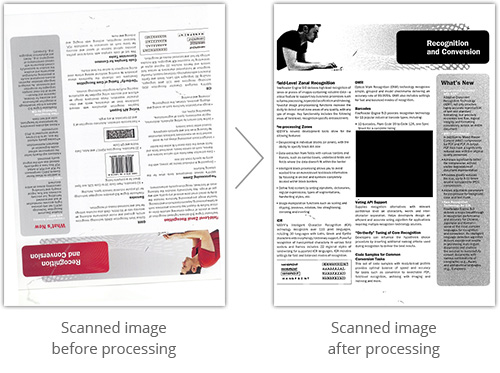 Recognition
At the recognition stage, document images are assembled into multi-page documents or document sets. Their content and data are intelligently extracted and validated automatically in an unattended mode.

Automatic Assembly of Multi-page Documents From a Mix of Pages
This task can be done either by separators (e.g. blank pages inserted between the two documents), page counters, or with the help of ABBYY neural-based classification algorithms that automatically identify.

Automated Image-base Classification
Content-based classification
Rule-based classification
Any combination of above

Highly Accurate OCR/ICR/OMR and Barcode Recognition
Optical character recognition of printed text in up to 190 languages
Intelligent character recognition for hand-printed text in over 110 languages
Barcode recognition for a variety of 1D and 2D barcodes
Optical mark recognition for a wide range of checkmarks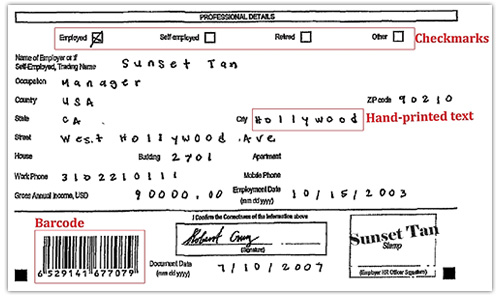 Automatic Validation
Comparison against databases
Conformity with built-in validation rules
Compliance with format
Data normalization
Application of other user-defined checks
Verification
Verification station allows checking if extracted fields match those of the original document. Alternatively, verification can be started manually using the web-based verification station, easily accessible to a verification operator from any physical location. Any of the following techniques can be used:

Group Verification
Group verification allows verifying the similar checkmarks or digits across batch of documents by displaying all discovered versions in a single Verification window.

Verification in Document Window
Recognized data fields can be viewed simultaneously and compared against the original document image. Poorly recognized characters (e.g. handwritten text or notes) can be typed manually into the fields. A web verification station deployed on a third-party system can be accessed via single sign-on technology (using SAML 2.0). Users interact with the integrated web verification station the same way they interact with a non-integrated station.
Field Verification
Field verification mode enables automatic checking of data fields one by one, or the characters in a field.


Data Export
ABBYY FlexiCapture automatically exports recognized data to different file formats, or to databases, systems of record and other destination points in line with user-defined rules.
FlexiCapture provides export to:
Files
SharePoint 2003/2007/2010/2013
ODBC-compatible databases
Any ERP system and invoice approval workflow
Any external application through use of custom script modules
Exporting document sets
Document set images can be exported to one PDF file or placed in a storage location. A file or database record should describe the structure of the document set and contain a link to each document image.
Document set fields (including fields in child documents) can be exported to ODBS databases and files. All fields in child documents are available when setting up an export; you can set up mapping and redact sensitive information both in a document section and in linked documents.
WEB-Based Administration and Monitoring Console
FlexiCapture HTML5 administration and monitoring station enables 24/7 supervision from any physical location. It provides multi-level administration, automatic notifications for critical failures, and comprehensive reporting.
Administration and monitoring allows for monitoring of processing times and pick loads. The system administrator is able to monitor system health, the overall system and each tenant productivity, and to receive notifications about imminent database overflow.
Three standard types of reporting are available: site productivity, processing productivity, and general operator report. The reports can be generated as PDF file or CSF for further analysis.
Microsoft Report Viewer is used as the default tool for generating reports. Although Crystal Reports are not shipped with the product, users who have this product installed on their computers can continue using it for generating reports.
Ideal for Large Companies and International Business
International companies can now enjoy a single solution for processing documents in multiple languages - including Chinese, Japanese, Korean, Vietnamese and 183 more!
Fast ROI, Low TCO
Elimination of labor-intensive operations guarantees fast ROI, while web-based clients and easy-to-configure data extraction ensure low TCO.
Web-based Verification
Reduce costs and utilize your workforce more efficiently with Web-based data verification. Operators simply log in to perform manual verification tasks.
Front Office Document Capture
Capture documents at point of entry to reduce processing time, delivery costs and the space needed for storing paper documents. With the help of Web Capture Station, scanning and verification can be performed in a single web-based interface. This enables front office document capture without the need for a thick client application – and speeds business processes by capturing documents at point of origin then quickly delivering them to the back-end.
Optimized Performance and Fault Tolerance
Advanced server-based architecture enables effective processing of large volumes of documents. A powerful processing server handles all resource-intensive operations – performing automated task distribution among the processing stations and load balancing. Microsoft Cluster support ensures consistent system operation and prevents data loss in case of system failure.