Search Results for ABBYY Fine Reader Corporate Download
FineReader 15 Corporate Edition (Download)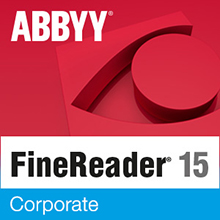 ABBYY FineReader 15 Corporate Edition (Download)

ABBYY FineReader 15

FineReader is an all-in-one OCR and PDF software application for increasing business productivity when working with documents. It provides powerful, yet easy-to-use tools to access and modify information locked in paper-based documents and PDFs.
A single solution to edit, review, protect, compare, and convert PDFs and scans
Award-winning technology from trusted leader in OCR
The best choice to work with paper-based PDF documents
Features

FineReader simplifies working with paper-based documents and PDFs by combining powerful OCR and conversion technologies with essential PDF tools.



Convert PDFs and scans
World-leading OCR technology to accurately convert paper documents, scans and PDFs to Word, Excel®, searchable PDF and other formats.



Edit and comment PDF
Edit any PDFs including scans, create PDF from multiple files, comment and annotate, search in, protect and prepare for sharing, fill in forms and more.



Compare documents
Quickly identify text changes between different versions of the same document – whether a scan, PDF, Word document or presentation.


Automate conversion
Streamline document conversion using the Hot Folder tool to schedule batch processing and track documents for conversion with "watched" folders.


Industry Cases

Legal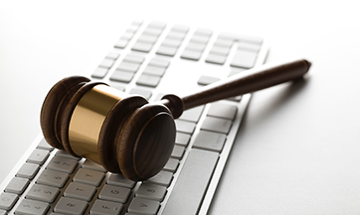 FineReader helps law practices and in house legal departments achieve greater productivity by making legal documents actionable. Enables attorneys, paralegals and administrative staff to easily process, manage and make the most of the information in paper and image-only documents and PDFs.

Education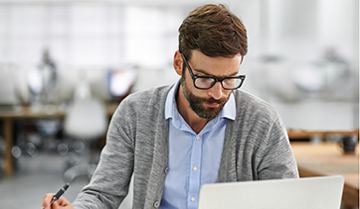 With FineReader, educational institutions and library services can provide lecturers, researchers, and students with special needs with a powerful tool for accessing information in books, articles and study materials – and for sharing it with others via PDFs.

Government


FineReader helps government organizations manage paper-heavy processes more effectively – by eliminating error-prone retyping and document recreation when working with paper-based documents or converting documents for long-term archiving.

Input Formats
PDF, PDF/?, TIFF, JPEG, JBIG2, PNG, BMP, GIF, DjVu, DOC(X), XLS(X), PPT(X), VSD(X), HTML, RTF, TXT and more.

Saving Formats
DOC(X), XLS(X), PDF, PDF/?, RTF, TXT, CSV, ODT, EPUB, FB2, DjVu, PPTX, HTML, TIFF, JPEG, PNG and more.

Recognition Languages
192 languages, including formal and artificial languages, Chinese, Japanese, Korean, Arabic, and others.
---
Maintenance & Options:
Installation, training and professional services
---
---
Keywords: FineReader
This page was designed to help you find ABBYY Fine Reader Corporate Download quickly and easily. Click Here to find ABBYY Fine Reader Corporate Download.
On-Site Support Available for much of the Eastern US
Online support available worldwide!
We will perform on-site installation and training services at any location within a 3 hour drive of one of our offices without charging extra for airfare. However, our extensive online support options make on-site visits unnecessary for many applications.
From our headquarters in Knoxville, TN we are able to provide on-site service and support for East Tennessee (Knoxville, Oak Ridge, Maryville, Alcoa, Chattanooga, Nashville, Tri-Cities, Kingsport, TN), Western North Carolina (Asheville, Charlotte, Winston-Salem, Raleigh, Durham, NC), North Georgia (Atlanta, Athens, Augusta, GA), Western South Carolina (Greenville, Spartanburg, Columbia), North Alabama (Birmingham, Huntsville, AL), Eastern Kentucky (Louisville, Lexington, Georgetown, KY) Southern Ohio (Cincinnati, OH), and Southern Virginia (Bristol, Roanoke, Richmond, VA).
From our branch office in Boston we are able to provide on-site service and support for Massachusetts (Boston, Worcester, Springfield, MA), Rhode Island (Providence, Newport, RI), Connecticut (Hartford, New Haven, Bridgeport, Danbury, CT), Southern New Hampshire (Nashua, Manchester, NH), Eastern New York (New York City (NYC), Yonkers, Long Island, Albany, NY), New Jersey (Newark, Trenton, NJ) and Eastern Pennsylvania (Philadelphia, Allentown, Scranton, Wilkes-Barre, PA).
Current Category:
Scanning, Document Imaging, Software, OCR Software, ABBYY
Other Items in This Category:
Recognition Server Download, Recognition Server, FineReader Professional, FineReader OCR, FineReader Corporate Download, FineReader, Fine Reader Pro Upgrade, Fine Reader Corporate Upgrade, Fine Reader Corporate Network, Fine Reader Corporate 3 Concurrent, Fine Reader, download abbyy finereader, ABBYY Recognition Server Web Services, ABBYY Recognition Server Unlimited, ABBYY Recognition Server Enterprise, ABBYY Recognition Server CPU License, ABBYY Recognition Server, ABBYY OCR Server, ABBYY FineReader Upgrade, ABBYY FineReader Professional Upgrade, ABBYY FineReader Professional Download, ABBYY FineReader Professional, ABBYY FineReader OCR, ABBYY FineReader Network, ABBYY FineReader Express Edition for, ABBYY FineReader Corporate Download, ABBYY FineReader Corporate Concurrent, ABBYY FineReader Corporate, ABBYY Fine Reader Upgrade, ABBYY Fine Reader OCR, ABBYY Fine Reader
Pages related to ABBYY Fine Reader Corporate Download:
ABBYY_PDF_Conversion - ABBYY PDF Transformer 3.0 Pro (Download), IRIS_OCR_Software - IRISPdf Download, IRIS ReadIRIS Pro Windows OCR Download, IRIS ReadIRIS Pro Mac OCR Download, IRIS ReadIRIS Pro Corporate Edition, IRIS ReadIRIS Pro Corporate Edition, IRIS ReadIRIS Pro Corporate Edition, IRIS ReadIRIS Pro Asian Windows OCR, IRIS ReadIRIS Pro 12 Corporate Edition, IRIS ReadIRIS Pro 12 Corporate Edition, ABBYY_OCR_Software - Recognition Server Download, FineReader Professional, FineReader OCR, FineReader Corporate Download, FineReader, Fine Reader Pro Upgrade, Fine Reader Corporate Upgrade, Fine Reader Corporate Network, Fine Reader Corporate 3 Concurrent, Fine Reader, download abbyy finereader, ABBYY Recognition Server Web Services, ABBYY Recognition Server Unlimited, ABBYY Recognition Server Enterprise, ABBYY Recognition Server CPU License, ABBYY Recognition Server, ABBYY OCR Server, ABBYY FineReader Upgrade, ABBYY FineReader Professional Upgrade, ABBYY FineReader Professional Download, ABBYY FineReader Professional, ABBYY FineReader OCR, ABBYY FineReader Network, ABBYY FineReader Express Edition for, ABBYY FineReader Corporate Download, ABBYY FineReader Corporate Concurrent, ABBYY FineReader Corporate, ABBYY Fine Reader Upgrade, ABBYY Fine Reader OCR, ABBYY Fine Reader Corporate Download, ABBYY Fine Reader, OCR_Software - character recognition download, ABBYY_Maintenance_Contract - ABBYY Server OCR, ABBYY, ABBYY_ICR_Forms_Processing - FormReader Enterprise FlexiCapture, FormReader Enterprise, FormReader Desktop FlexiCapture, FormReader Desktop, ABBYY FormReader FlexiCapture Desktop, ABBYY FormReader Enterprise, ABBYY FormReader Desktop, ABBYY FormReader, ABBYY FlexiCapture, ABBYY_Forms_Processing - ABBYY FlexiCapture for Fixed Forms, ABBYY FlexiCapture Distributed, ABBYY_Add-On_Modules - ABBYY XML OCR Server, ABBYY Recognition Server XML Export, ABBYY Recognition Server Verification, ABBYY Recognition Server OCR Hebrew, ABBYY Recognition Server OCR for Chinese,, ABBYY Recognition Server OCR, ABBYY Recognition Server Korean OCR, ABBYY Recognition Server Japanese OCR, ABBYY Recognition Server Hebrew OCR, ABBYY Recognition Server Chinese, Japanese, ABBYY Recognition Server Chinese OCR, ABBYY OCR Software, ABBYY OCR Recognition Server, ABBYY FlexiCapture Verification Workstation, ABBYY FlexiCapture TWAIN Scanning Workstation, ABBYY FlexiCapture Line Item Processing, ABBYY FlexiCapture ISIS Scanning Workstation, Scanning_Software - scanning software downloads, ABBYY_FlexiCapture - formreader flexicapture, abbyy flexi capture
Meta Enterprises, LLC - Knoxville, TN
ABBYY Fine Reader Corporate Download at ScanStore.com
Freeware OCR Software and Royalty Free OCR SDK
Document Scanning, OCR and Barcode Recognition Software
Mortgage Document Scanning and OCR
Find Pipettors and Pipette Tips